5 Awesome Things Google Street View Does for Your Business
New businesses are sprouting up left & right as we adapt to a new normal… and Google Street View is a great way for brands to distinguish themselves online while engaging with new people.
Read on to learn about Google Street View benefits for businesses big and small, local and beyond.
---
1) CONNECT WITH YOUR AUDIENCE
In most neighborhoods, locals will want to explore online before they visit in person. They want to know if the business is still in operation, the best hours to visit – meaning, the times when they can visit with the best opportunity for social distancing, and in general, what to expect if they need to walk into an establishment.
According to Forbes, retailers state that 82% of consumers do research online before visiting a store.
Google Street View is one of the best solutions for attracting your target market because it offers transparency and excitement. People value transparency and Google Street View encourages this, showing your business with doors wide open.
Businesses needing to get the attention of new people can use Google Street View to engage interest, increase trust, and connect with communities.
TRY BEFORE YOU BUY
A Google Street View map creates connections with people by putting a face to your business' name.
For Example: pretend you own a restaurant in the City of Berkeley that has a great patio atmosphere. Before coming for dinner, people naturally will want to see if your restaurant will be worth their time and money. They want to see if there is adequate space for social distancing.
A great 360° photo or tour via Google Street View builds trust and motivates people to come visit. At the same time, any questions potential visitors may have are instantly answered (whether about location, atmosphere, seating, viability for their personal needs, or anything else).
2) BUILD TRUST!
In a survey on the impact of search listings for local businesses, Google found that businesses with a complete listing within the search were 197% more likely to be viewed as a place people can depend on. Customers want to know that small businesses care about them, are reputable, and offer quality products. (Source.)
Having your business on a Street View map gives people a behind-the-scenes look at your business. It shows that your business has personality.
Plus, search results that have Google Street View are more engaging. This cuts through the buzz of search results, and social media, while reaffirming the efforts of your marketing campaign to describe your value.
3) ACCESSIBILITY & CONVENIENCE
MOBILE STREET VIEW MAP
Tours in 3D on Google Maps are easily accessible.
Check out this screenshot below of my mobile search on Google Maps. See how close the 360° tour is to the search bar?
The 360° tour is there immediately when pulling up search results. All you have to do is click in to explore and learn more.
With a new normal, more and more people are looking for alternative things to do. People new to the area will have so much to choose from they won't know where to begin.
Having your business on Google Street View shows people quickly if what you offer is what they're looking for….. all from the palm of their hand, or the comfort of their sofa.
Plus, using Google Street View is easy to use on both desktop and mobile.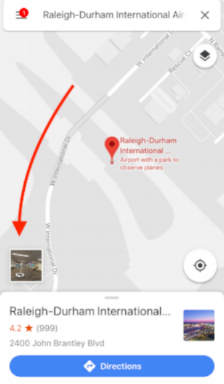 DESKTOP GOOGLE STREET VIEW MAP
When searching for a business on Google Maps, you don't need to look very far for an immersive experience. In only three clicks, people using Google can see spaces in full 360°.
4) MOTIVATE ACTION
People turn to Google for sources of information. In fact, 2 out of 3 consumers look for local business information on map sites/apps (see graphic below).
Using search engines helps save time and aids in informed decision-making. Having your business on a street view map also aids in likelihood of purchase. People get what they're looking for while searching more quickly through visuals, not just text.
Did you know, people retain 80% of what they see versus only 20% of what they read. The quickness of visual messaging from a street view map leaves a more lasting impact on people searching through Google.
Be a place people want to come visit! How many potential sales are lost because people choose to go elsewhere simply because your business seemed too unfamiliar online?
5) INTEGRATE WITH YOUR MARKETING CAMPAIGNS
Even though it's an option to do active marketing (e.g., pay for a 360° marketing campaign), you can use Google Street View as a form of passive marketing as well. Putting 360° photos of your business on a Google Street View map means your content is just there, there forever. It's not something you have to maintain.
People can interact with your 360s on Google street view on a daily basis. 3D on Google Maps is like evergreen trees, once planted they're there year-round. This works great for small businesses in any discipline (from restaurants in Raleigh to art museums).
P.S., if you are a business in the City of Berkeley, CA, getting a virtual tour on Google Street View is your (not so) hidden gem.
Monty King Marketing Can Help
Our 360° virtual tours work not only for Google Street View. 360° tours integrate seamlessly on websites, social media, and as a part of content marketing strategies or marketing campaigns. Your 360° tour could be embedded on your website or Facebook page today.
In addition to Google Street View tours and 360° content services, we also do branding, marketing, and can help with distribution across social media platforms.
---